Summer 2011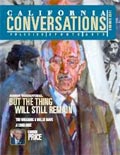 We are back after a bit of a break. The generous response we've received for the magazine is part of the reason for returning, but even more is our continued commitment to civil discourse.
His name will be synonymous for future generations with seeking tolerance and understanding. However, Simon Wiesenthal will always be known as 'The Nazi Hunter', the resilient Jewish inmate of 13 different concentration camps and a complex man who spent all of his life seeking justice, not vengeance. In the telling of this story we were lucky to spend time with the extraordinary Rabbi Meyer May.
Curren Price would have done just fine in life without ever asking anyone to vote for him. He was there when the demographics changed, when an almost entirely white California became more diverse. He was also one of those daring young people of a generation ago that strapped on a backpack and went to places no one had gone to when it wasn't war that inspired travel.
Ted Williams was the greatest hitter in baseball history. Period. We see a side of Ted never revealed before, a view of the boy from San Diego who played large on a great stage. We also take an opportunity to talk with Willie Mays, the greatest all-around baseball player ever. Period.
People relax in different ways. We enjoy a long hike with Deanna Douglas on one of the most historic routes in California. It is an amazing journey on the John Muir Trail.
The tiny cemetery went unnoticed until Joe DiMaggio buried his second wife, Marilyn Monroe, there. Today, the beautifully kept Westwood Memorial Park is one of the most popular tourist sites in Los Angeles. It is a resting place for some of Hollywood's biggest stars.
In this issue we listen to the insightful Leigh Steinberg, remember Earl Warren, go to Vietnam with a nurse, hear some favorite anecdotes and, with one of our favorite features, revisit Cathedral Rocks through the brilliant lens of Ralph Heim.
We hope you enjoy it. It is good to be back.