A Long Hike in a Historic Place
Written by Adriana Calderon

Published Issue: Summer 2011
Deanna and Steve met at the Tahoe Rim Trail Endurance Run. He was running fifty miles and she was doing the 10K, a 6.2 mile run.
Deanna finished with her run first and left a note on the windshield of his car asking him to call her and let her know how the run went for him. He still has that note. They ended up with each other and it is an enviable match.
You can hear it in their voices that they know how lucky they are to have found one another. He's an emphatic military guy who once spent seven months in a submarine and when he mentions his wife there is a lightness and humor. She doesn't last very long in a conversation without finding a reason to laugh. She is serious when she says the best part of being in the wilderness is Steve's company.
100 Mile Runs
They did their first 100 mile run together in Arizona. It took 27 hours. There was no sleep and 96 miles into that Arizona run Deanna said she almost quit.
"Steve was like, 'What? You're kidding me right'?"
Deanna has a laugh that is close to crystal in its clarity. It is completely natural, and when she tells a story it punctuates the image with a sense that she is taking you to that moment.
"I just had to sit down. I sat on a rock where you could see in the distance the end of the run. That is not what got me started again. I also saw a snake hole right next to me. That got me off the rock."
Deanna and Steve made a habit of endurance runs. Deanna who started running for fun when she was twenty-seven, doesn't flinch when she talks about events such as the Western States 100 mile event. They have run countless marathons. For added fun, they hiked Point Reyes at 13-15 miles a day, and the Pacific Crest Trail near Donner for a quick 27 mile overnight hike.
"I don't know exactly what draws us to the long runs and physical challenges. It is a good question. I think it's just to see what we can do and how comfortable or uncomfortable it will be."
Friends told them of the John Muir Trail and the unbelievable beauty. They were shown pictures. It became something they wanted to do, not sure really what to expect because they had never gone backpacking for more than five days at a time. They'd never done the kind of backpacking where you spend eleven days in the back country.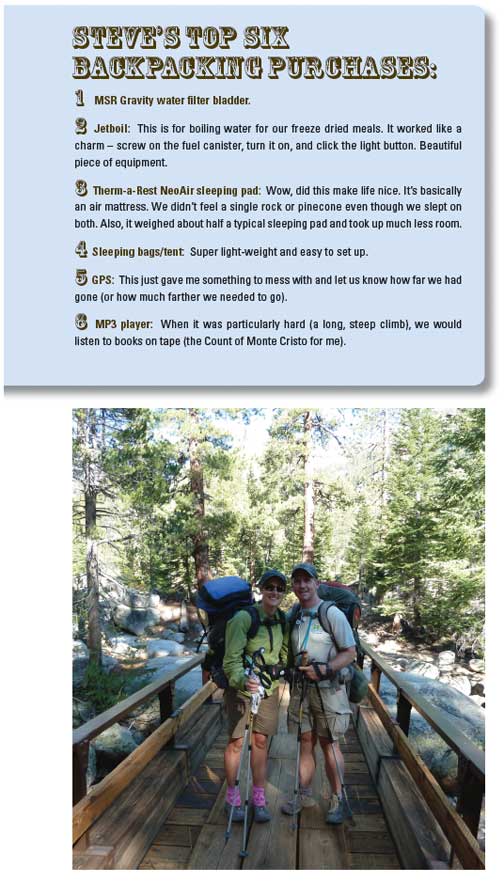 The John Muir Trail
John Muir died on Christmas Eve, 1914. It was a monumental life, one of remarkable achievement, including the protection of some of California's most precious natural resources, the founding of the Sierra Club, numerous books and essays that inspired following generations of environmentalists, and even the despairing loss of Hetch Hetchy to a dam.
The John Muir Trail is in the Sierra Nevadas. It runs through three national parks and takes hikers who can withstand the elements through the Yosemite Valley to the summit of Mount Whitney.
Once Deanna and Steve made the decision to hike the John Muir Trail, they got serious about the planning. "The physical training was not a big issue for us," Deanna said. "However, we started planning the food, mileage per day, anticipating the elevation gains and losses, and the places on the trail where we would rest during the day and sleep at night. I wasn't fearful physically, I was just concerned about having the right gear and how it would be out there without much of a shower."
Steve charted their food on an Excel spreadsheet; calories per pound, per day, per person. Ultimately, Deanna's backpack was 35 pounds starting and Steve's was 45 pounds. Steve carried the extra gear like the tent and the gravity inline water filter system. They packed for the first six days and shipped the rest of the food to Trail Ranch, which is the halfway point.
"We got a 5-gallon bucket from Home Depot, packed it with supplies and mailed it to ourselves at Trail Ranch. We received a return receipt to guarantee its delivery. The folks at Trail Ranch kept it for us until we arrived. We just had to show our ID at the ranch and pick it up."
"The limitation on the food was putting it in a bear-safe canister. You cannot hike through Yosemite without your food in a bear-safe canister. Those are the rules. It is for the bears' protection and for yours."
"When you're really hungry and you're losing a pound a day, it's pretty good. We will take more trail mix next time, but we mostly had Mountain House dehydrated food and it was pretty good. You can exchange things with stuff other people have left at Trail Ranch. We actually mailed more than we could carry and so things we didn't care for anymore were left at the Ranch and we took other things that looked more appetizing."
"Steve would get up at 5:00 a.m. and get his coffee and I would get up at 5:30 a.m. It was so cold in the morning. We would have a little breakfast and I would drink some tea and we would pack up and head out between 6:30 a.m. and 7:00 a.m. We would hike until about 1:00 p.m. We would eat lunch, which would take about 45 minutes to an hour. Some nights we weren't at a spot where we wanted to camp so we would keep going. Some nights we set up camp at a decent time."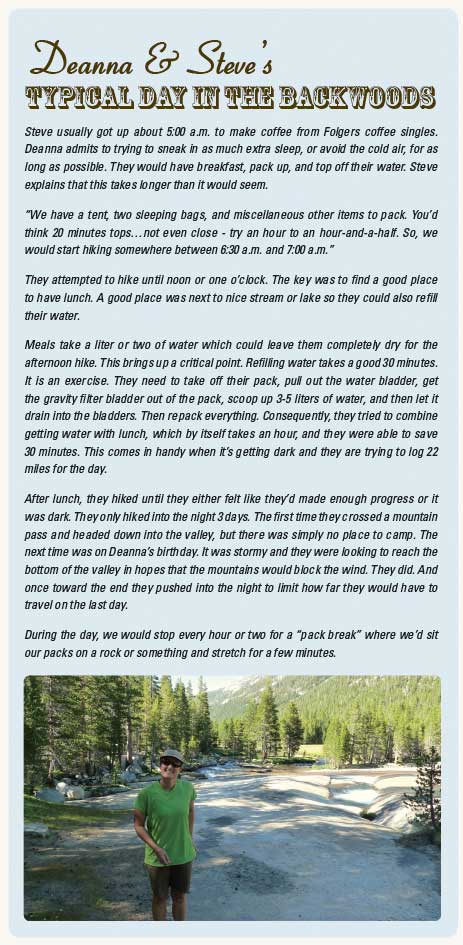 We asked Deanna if there were ever days after lunch that she just didn't want to get going again.
"I never let my mind go there because I knew we had to keep going. We had a timeframe. The only thing about the timeframe is that it is not enough time to truly stop and take in the scenes that you want to. We stayed on the main route instead of detouring. If we did it again we'd take a few more days to enjoy it. The streams are so beautiful and it was fun to sit and relax by the stream, but we didn't have a whole lot of time for things like that."
On the Trail
Deanna and Steve met a few couples doing the same thing they were doing. They were on a different time schedule than the others so they eventually didn't see them anymore.
"There weren't a lot of people on the trail. Our busiest night was a place right out of Tuolumne Meadows. There were probably 15 tents or so by the stream. Most other nights we had the camp to ourselves. The Parks system has established spots that are cleared out and smooth and they want you to use those to camp; they don't want you camping anywhere new. They want to try and preserve the trail as much as possible."
We asked about the amenities along the way.
"The second day ends in Tuolumne and hikers can stop at a store if there is anything they need before beginning the length of the trip. The third day is outside of Mammoth, and they have a nice campground and also a backpacker's shower. It is a cement hot spring shower that the water just pours out of."
"After day three there was not another shower," Deanna laughed. "Nope, no more showers. I didn't really want to use soap or anything because it can be a problem on your skin…with the snakes and everything so I didn't want soap on me."
There is only one bathroom after that third day.
"There is a high traffic area somewhere about a week into it," Deanna said. "It is hilarious because a ranger built this makeshift throne on top of a hill. It has a little wood plank and then a toilet and you're kind of just out in the open. Steve saw the sign that said to use the bathroom up the hill. He went up and then comes back and said it was great. So I go up there and the sun is coming up and I look around and it is out in the open and anybody walking up this trail would see me. I didn't find it very enchanting myself."
The Best Part of the Hike
Deanna said that the best part of the trip was the companionship. It wasn't a valentine to her husband, but an immediate answer and an acknowledgement that she and Steve do well being in situations most us of would call extreme.
"We've done so much stuff together that inevitably when one of us gets tired the other one may have more energy. We feed off each other. We had so much fun and, for as long as it was, I really wasn't ready for it to end. I wanted to get a shower but it was really a great trip."
The second best part, easily, according to both Deanna and Steve, was the scenery.
"It is so stunning, so beautiful," Deanna explained. "I've lived in California all my life and my parents took us camping a lot. But I have to say that it was just the most beautiful scenery ever. Every day was so entertaining because we would be hiking along these segments of the trail saying it can't possibly get any more beautiful and then you would turn the corner and it was even better."
"We brought a guidebook that we wanted to read, but by the time we set up camp at night and had some dinner we would lay down and I'd say, 'Hey Steve, check out what's in the guidebook,' and he would already be asleep. Then I would try and read it and I'd get through a page and be out cold."
The Next Trip
They are going to do the Tahoe Rim Trail. It's about 180 miles. They've agreed to put an 18 mile a day cap on the hiking. It will be a breeze for them.